What does Apple New iPad Means for Gamers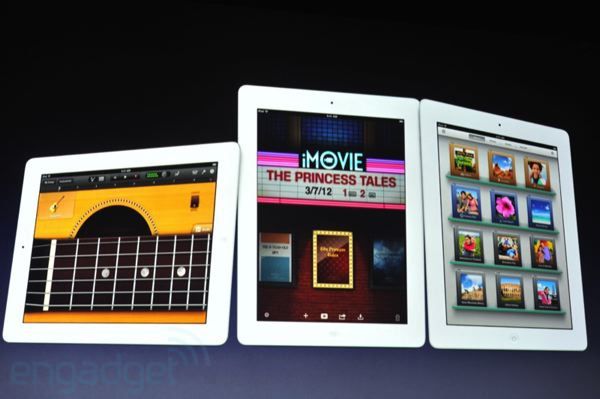 Quad-Core, Quad Fun?
Apple announced only hours ago that its brand new iPad (which, funnily enough, is actually called "The New iPad") will be releasing next week on 16 March in North America and the UK (France, Germany, Switzerland confirmed for Europe with most other countries set to receive the device from 23 March onwards).
As was to be expected, a whole slew of new features have been added to the next "post-PC" Apple product that are bound to please most iPad users in one way or another. The 1080p video recording facility is a welcome addition and the confirmation of 4G LTE for US consumers is a very nice bonus, but what does the new iPad do for us gamers?
The new Accessori Apple is packing a dual-core A5X with quad-core graphics, which, according to Apple is twice as fast the Tegra 3 chip and offers four times the performance. Gamers will be able to enjoy the likes of Epic Games' Infinity Blade: Dungeons and Namco's Sky Gamblers: Air Supremacy in glorious 2048 x 1536 resolution; that's an incredible 1 million pixels more than a 1080p TV and double the screen resolution of the iPad 2. Both games, although we've yet to see them on the actual device itself, appear to sport a heck of a lot more detail than even the likes of current high-end apps, Infinity Blade II and Modern Combat 3: Fallen Nation.
James Shelton, Game Design Director at Namco, demoed Sky Gamblers: Air Supremacy during the keynote, an Ace Combat-esque title for the device which is also due to release later this month. He was quick to point out that "the extra graphics performance lets​ us ​increase ​​the ​level​ of detail of everything in the game…and, thanks to that ​resolution,​"none of the ​​detail goes to​ waste".
One of the most impressive part of the demo, however, was not the attention to detail, but rather the focus on scale. Dozens of enemy jets littered the screen simultaneously, and this hopefully means that we will start to see iOS titles that not only look like their home system counterparts, but also onse that share similar gameplay experiences in terms of depth. Even titles that do not incorporate 3D graphics will benefit from the new iPad's retina display by looking much crisper and brighter, not to mention more vibrant thanks to the 40 percent increase in colour saturation that the new device brings.
Sporting a whopping 264 pixels per inch, with the new super "resolutionary" screen whicg contains a total of 3.1 million pixels, it's easy to get excited about how good games could actually look.
Cynics will scream blasphemy, given that the device still doesn't (and most probably never will) feature any buttons, but iOS developers have been clever in recent times to get around the issue of missing buttons and compensating for sensitive camera control in iOS first-person shooters with sufficient auto-aim systems.
Industry giants, such as Gameloft and EA have more than likely been aware of the new iPad's capabilities for some time already, meaning that we should hopefully start to see some titles that take advantage of the upgrade sooner rather than later. Imagine another Dead Space game, which comes even closer to the home system versions, sporting HDR lighting and even sharper in-game menus thanks to the vastly improved resolution.
However, as stated above, I believe that video game companies should use this opportunity to improve their gameplay experiences even further. While Infinity Blade I and II both look absolutely stunning, the core gameplay for these games was, in reality, quite limited, with you only being able to explore your surroundings by simply moving the camera around. Infinity Blade: Dungeons seems to rectify this, adopting the tried-and-tested hack 'n' slash formula while also providing an awful lot of eye candy. The next Modern Combat Nintendo R4 3ds , should there be one, needs to not only look better, but also provide a more engaging experience at the same time. This means more allies and enemies on-screen, more dazzling scenes and greater use of lighting effects to assist gameplay.
Is it worth upgrading? Despite receiving all the technical specifications, it's still difficult to give a sound judgement. Of course, we'll be able to tell you this in detail when we provide you with our hardware review for the device.
This means that most major game developers will no doubt invest in producing titles that make the most of the device, as the install base is likely to be huge and existing games can be tweaked to utilise device-specific features. If previous trends are anything to go by, then many popular titles most certainly will be upgraded so that they look and run better. Therefore, if you want to be at the cutting-edge of iOS gaming, the answer is pretty simple: you need one of these. The super resolution and quad-core graphics alone have us sold.
iOS gamers will want to to mark 16 March in their calendar. It will be available in the usual 16GB, 32GB and 64GB memory sizes and can be purchased with built-in 3G/4G LTE at extra cost. For full pricing details and other core features, read Tom Rippon's unveiling article, which details all the technical specifications divulged at the conference earlier today.
See Also