How to Fix R4i SDHC 'Loading' Problem
Good news that R4i SDHC team has just released the new kernel V 1.53b for R4i SDHC 3DS, R4i SDHC v1.4.2 cards work on the DSi V1.4.3 system.
As R4i SDHC user probably noticed or met the problem that the console keeps ' loading' when the console is power on. With this update, you will see that there is a hint,which shows you more quick way to use R4i SDHC card.
only € 32,99
1.Support 3DS V3.0.0-6Please go to "setting/upgrade" to upgrade firmware.
2. Fix recreate save file issues due to NDS file name big/small capital letter problem.
3. Improve unknown new games loading routine (to avoid errcode=-4 problem).
4. New hints screen, press "START" to view hints.
5. Solved games:

5962 – Metal Beyblade 2: Big Bang Bladers (KR)
5960 – Live-On Card Live-R DS (KR)
5959 – Jeongukmin Model Audition Superstar DS (KR)
5957 – Tropical Lost Island (v1.1) (EU)
5953 – Professor Layton and the Spectre's Call (EU)
5934- Call of Duty: Black Ops (EU)
5930- Tinkerbell – 2 Disney Games (EU)
Download from the official site at
http://www.r4i-sdhc.com/downloade.asp
How to upgrade R4i SDHC 3DS for 3DS v3.0.0-6 system firmware ?
3DS V3.0.0-6firmware upgrade instruction
How to change the skin ?
Operating instructions of Skin 6C4YYQC5S63X
Where to buy ?
We recommend you www.elektronichouse.com with a free drop shipping to all countries. – Save your money now.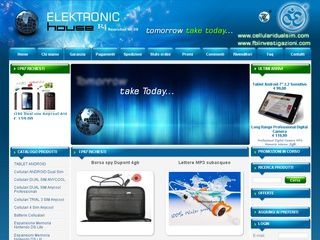 Ottimi prezzi e prodotti all'avanguardia: Elektronic House dispone del meglio

della tecnologia per la vendita elttronica, R4 R4i 3DS, R4 3ds, Card Ds Two, R4 3ds Dual Core online,

garantendo prezzi bassi e ottima qualità. Per la vendita prodotti di elettronica online Elektronic House

dispone di ottime off - elektronichouse.com