Everything you need to know about the new Nintendo Wii U console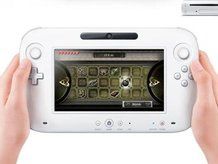 As original Nintendo Wiis gathered dust in households across the UK, Nintendo confirmed it would unveil a second-generation 'Wii 2' - the Wii U - at E3 2011.
Nintendo has sold 86 million Wii consoles so far and is clearly keen to capitalise on that huge success with another offering that will appeal to casual gamers.
Remember when you first heard the name Nintendo Wii? Many people laughed and said it would never catch on. It did. Nintendo is hoping that Nintendo Wii U will capture people's imaginations in the same way.
Since the launch at E3 2011, we've rounded up all the new details on the new console and even seen it - check out our Hands on: Nintendo Wii U review.
But first, more on the name. "You might remember how the Wii name began to make perfect sense once you started hearing it as Wii. It was clear how much fun we all had playing together," said Nintendo of America boss Reggie Fils-Aime on the E3 2011 stage.
"But in thinking about a new Nintendo system we knew the prevailing thought would be this: yes, the game would probably be right for all of us, but could it also be a perfect fit just for you.
"The answer to that question is an emphatic 'absolutely'. Welcome to the world of Wii U."
Wii U is the Wii logo we all know well, with a small blue U just to the right of it. It looks (and sounds) a bit weird, but we may well get used to it in time. Here's the new console - read on for more details on it and the revolutionary new controller.
Wii U UK release date
Nintendo has confirmed that the Nintendo Wii U will go on sale in time for Christmas 2012. Previous reports indicated the release date might be a bit sooner than that, but you can be sure that Nintendo will be pulling out all the stops to ship the product on time - if it misses the Christmas season it's wobbly financial situation will only get worse.
Wii U UK price and Wii U US price
Pricing is yet to be announced. But the fear is that, with the new controller, it may be a little too high. Latest rumours suggest a $600 Wii U US price which would suggest a £399 Wii U UK price . Earlier rumours close around the $250 mark were swiftly debunked.
Wii U is a Full HD, 1080p console
The new console will be fully HD compatible, unlike its predecessor.
EA boss John Riccitiello says that Wii U is a "stunning breakthrough" that "speaks directly to EA Sports games" and boasts "brilliant HD graphics".
"Imagine a shooter like Battlefield with jaw-dropping graphics and smooth animations from the Frostbite engine, brought to you on a Nintendo system with that brilliant controller… We can't wait to see EA games on this new system."
Wii U has a touchscreen controller
The controller for the Wii U is, as was rumoured, a 6.2-inch touchscreen tablet that also features an accelerometer and gyroscope for motion control, dual analogue sticks, rumble feedback, a D-pad, a front-facing camera, triggers and shoulder buttons, start/select/home buttons and a microphone.
Each Wii U console will come with a new controller and can also use up to four additional Wii Remote or Wii Remote Plus controllers. The system is also backward compatible, and can play all Wii games and use all Wii accessories.
Can Nintendo disrupt the market - just as they did with the original Wii controller - yet again?
Wii U processor
According to IBM, Nintendo's Wii U is powered by a custom 45nm multi-core Power processor with embedded DRAM.
Says the company: "IBM's embedded dynamic random access memory will help deliver a thrilling new game experience to Nintendo fans. The new memory technology, a key element of the new Power microprocessor that IBM is building for the Nintendo Wii U console, can triple the amount of memory contained on a single chip, making for extreme game play."
Elektronichouse.com claimed in November 2011 that the Wii U has a "3GHz quad-core Power-PC-based 45nm CPU that's very similar to the Xbox 360's CPU."
Wii U graphics
Wii U's graphics carry on the ATI heritage of the Wii, with a custom AMD Radeon HD GPU reports Kotaku.
Wii U specifications and connectivity

It appears the original Wii's Gamecube controller compatibility will be binned. while there will be four USB ports under that hatch/at the rear and there will still be an SD card slot. There will also be some internal storage, though you'll be able to boost that by plugging in an external drive. And, as befits an HD console, there will be HDMI onboard, in addition to S-Video and component. Also expect 802.11n Wi-Fi.
Wii U disc format
We know Wii U will be backward compatible with all past Wii games, but we don't know for sure if there will be any upscaling - or indeed whether the unit will boast a Blu-ray or DVD drive.
However, a company exec has revealed that the system's proprietary disc format will hold up to 25GB of data, but it will not be compatible with Blu-ray.
You can play games solely on the Wii U touchscreen controller
Nintendo president Satoru Iwata agrees that the first Wii U demo video "may have answered some questions, but it probably raised several others, too".
But the key concept is clear - Nintendo hopes that you will be able to transfer the game you are playing on a TV screen in your home to the local screen, should you wish to play alone in your bedroom or study - perhaps if someone else needs the TV.
"Up until now, home console games had to occupy the TV screen in order to be played. But, the new controller for Wii U with 6.2-inch screen means you won't need to give up your gameplay when someone else comes in the room and wants to watch a TV programme."
Wii U does video calling and more
It also looks like you will be able to make video-calls on the Wii U control pad, using its front-facing camera. Plus, you will be able to share content such as your holiday pictures and home videos from your local controller to the main television with ease.
Wii U is fully backward compatible with kit and games
Wii U is fully backward compatible, which means that you can play all of your current Wii games on the system and use your Wii Fit or any other accessories you currently use with it.
Wii U could have an app store
Wii U will go beyond the current Wii Shop offering and provide a mass of apps and other web services. Other rumours have also suggested Wii U will include ereading capabilities in the controller.
But Wii U's controller is not a standalone handheld console
The controller needs to be tethered to the Wii U console to function - it isn't a PlayStation Vita competitor.
Wii U games will be plentiful
"Wii U was created so that the widest variety of games can be supported," says Nintendo. "That means those aimed at experienced controllers that can use circle controllers using both their hands, plus those games that can be intuitively played without the need for any buttons."
Games design guru Shigeru Miyamoto says of Nintendo's new home console: "More than anything I'm really looking forward to new styles of play... There are so many we're just trying to decide where to begin."
Ninty announced new content based on its own franchises such as Mario (see below) and Zelda, but more interestingly, says our own Adam Hartley, "is that EA, Ubisoft, Sega and lots of other third-party games developers were showing off new adult-themed, hardcore games that they are making for Nintendo's Wii U."
Related Articles
5 things Nintendo must get right with the launch of Wii U